Let QSG fulfill your mechanical design engineering training needs. We offer a variety of Mechanical Design Courses online, each developed by a practicing industry expert and refined through delivery and customer feedback.
QSG's courses are designed to give students new knowledge plus hands-on practice putting that knowledge to use. Students who attend our courses take away more than information; they learn how to correctly put new concepts into effective and productive use on the job.
Online, Synchronous Instructor-Led Training
Courses are delivered in an online classroom, with live, personalized instructor-student interaction, and opportunities to work in teams to solidify knowledge and fill gaps. Students receive course workbooks (and textbooks where applicable) delivered to their locations prior to training.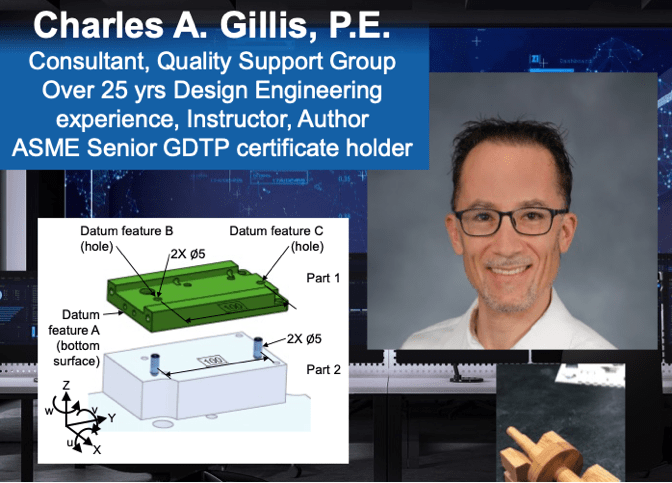 Recommended Tracks:
Mechanical Design Courses Block (all times in EST)
Blueprint Reading
Mon, Oct 28 – Tue, Oct 29, 2021 @ 8:00am-4:00pm each day
Mon, Jan 10 – Tue, Jan 11, 2022 @ 8:00am-4:00pm each day
GD&T Part 1 (Basic)
Tue, Oct 26 – Wed, Oct 27, 2021 @ 8:00am – 4:00pm
GD&T Part 2 (Advanced)
February 7-8, 2022
GD&T Per ASME Y14.5-2018
Tue, Feb 2, 2021 @ 8:00am – 4:00pm
Engineering Drawings Primer
Mon, Jan 31, 2022 @ 8:00am – 4:00pm
Webinars – Mechanical Design Courses (all times in EST)
Not sure if you're ready to commit to an online training class? Register for one of our free webinars!
Follow QSG on LinkedIn!
Become a QSG Member today!